Jim Frio & Associates
Auctioneers, Certified Appraisers, Real Estate Brokers & Consultants – Complete Estate & Appraisal Service. Licensed, Bonded & insured in the states of West Virginia, Ohio & Pennsylvania.
Frio Auction Service is a regional business offering the executor, attorney, agent and other individuals in Wheeling and surrounding communities the most comprehensive and technologically advanced auction and appraisal service available.
Frio Auction Service handles entire estate inventories and can accept single items or small collections to include in a multi-owner auction, also all types of business liquidations and industrial sales.

Frio Auction Service has received and won numerous awards for advertising.
Frio Auction Service has conducted Wheeling Health Right's Annual Chef's Auction, which is a major fundraiser for the Wheeling Health Right.
Frio Auction Service was created with total service in mind. Most auction companies simply have not kept up with current technology. Jim Frio and his staff perform each and every facet of the sale from inventory, appraisals, promoting the sale, to conducting the auction using advanced technology in all aspects of its services.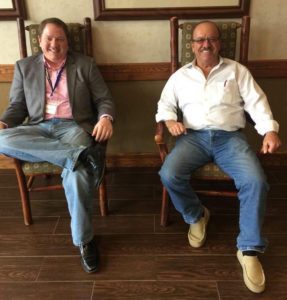 Jim Frio
Jim, Auctioneer & Certified Appraiser, has been involved in the auction profession for over 35 years. He currently serves on the State of West Virginia's Auctioneers Board of Review. Jim is a past member of the Board of Directors for the West Virginia Auctioneers Association, where he has served as President and Executive Director. He is a 2 time West Virginia Grand Champion Auctioneer. Jim was also inducted into the West Virginia Auctioneers Association Hall of Fame at the 2000 Annual Convention, which is the highest honor an auctioneer can receive. Jim has won numerous awards in marketing and continues to keep up to date with modern technology in every aspect of the auction industry.
Karen Frio
Karen had been a Real Estate Broker in West Virginia for over 20 years. She specializes in commercial and residential properties. She is also a West Virginia Auctioneer whose expertise is in Real Estate auctions. Karen graduated from GRI (Graduated Real Estate) Institution and has both a CREA (Certified Real Estate Appraiser) and CAGA (Certified Appraiser Guild of America). She has been married to Jim for over 35 years and they have one daughter (Katie) who also works for their company and two grandchildren.